Pursuing an Advanced Therapy Degree by Continuing Your Education
A recent survey asks Physical Therapy Products readers to share their thoughts about the reasons therapists are seeking to advance their degrees
Perspectives on education are as diverse as the degrees within the institution itself. Yet, the drive toward education in order to meet economic change and demand suggests a parallel within the scholastic spectrum, including in the realm of physical therapy.
Why Advance Your Degree
A good case can be made for therapists to strengthen their educations and academic standing, as statistics suggest a need to grow the physical therapy profession. According to the Bureau of Labor Statistics, US Department of Labor, employment of physical therapists (PTs) is projected to grow 36% from 2012 to 2022, much faster than the average for all occupations. Demand for PT services is also expected to rise from Baby Boomers, who are seeking to stay active. Additionally, the growing incidence of patients with chronic conditions, such as diabetes and obesity, requires more PTs to help these patients maintain mobility and manage their conditions.1
In terms of academic growth, a 2012-2013 fact sheet from the Commission on Accreditation in Physical Therapy Education (CAPTE) projects total graduates from PT programs to number 8,978 for 2015 and 9,009 for 2016.2 Students currently enrolled in 2014-'15 accredited PT programs total out to 29,246, the CAPTE site says.
In light of this data, Physical Therapy Products issued an online survey asking readers to share their thoughts on the importance of continuing education and advanced-level degrees. Survey participants disclosed key details regarding their current degree level, the types of degrees they wish to attain in the future, as well as whether they are currently enrolled in a degree program, and if so, which type of program (ranging from on-site, online, and hybrid on-site and online learning). Those not currently enrolled in a program provided a list of program types they were likely to pursue.
Results have been summarized with accompanying charts for visual representation of the data.
Current and Desired Degrees
The survey sample indicates 43% of participants hold bachelor's degrees. Thirty-three percent hold a current master's degree, and 24% hold a doctor of physical therapy (DPT) degree. The Bureau of Labor Statistics notes that in 2013, there were 218 programs for PTs accredited by the CAPTE, all of which offered a DPT degree.1
In a similar vein, 33% of respondents also singled out DPT as a degree they would like to obtain, and 13% indicated they would like to seek a postdoctoral degree. Forty percent of the participants noted a desire to pursue degrees in other specialties, such as certified strength and conditioning specialist (CSCS) and orthopedic clinical specialist (OCS).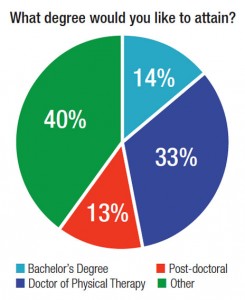 The American Board of Physical Therapy Specialties defines specialization as the process by which a PT builds on a broad base of professional education and practice to develop a greater depth of knowledge and skills linked to a particular area of practice.3 A number of survey respondents indicated they would like to broaden their education by attaining their OCS, renew their OCS before expiration in 2017, attain their degree in recreational therapy, and would like to attain a degree in pediatrics.
Additional specialties that survey takers noted they would like to pursue include the following: fellowship; CSCS; CSCS, PRI certification; osteopathic manual practice; MBA in healthcare; Fellow of the American Academy of Orthopedic Manual Physical Therapists; certified wound specialist; neurologic certified specialist; geriatric certified specialist; and certified athletic trainer.
Preferences in Education
When asked whether they were currently enrolled in a degree program, 92% of participants stated they were not, while 8% acknowledged they were.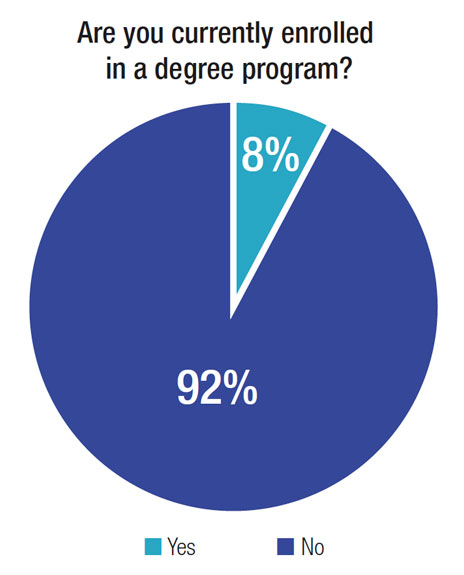 Those currently enrolled indicated online learning as their chosen program type (53%). Hybrid on-site and online learning came in at 29%, and on-site learning was selected by 12%. Six percent designated their program type as a "return to traditional university or college."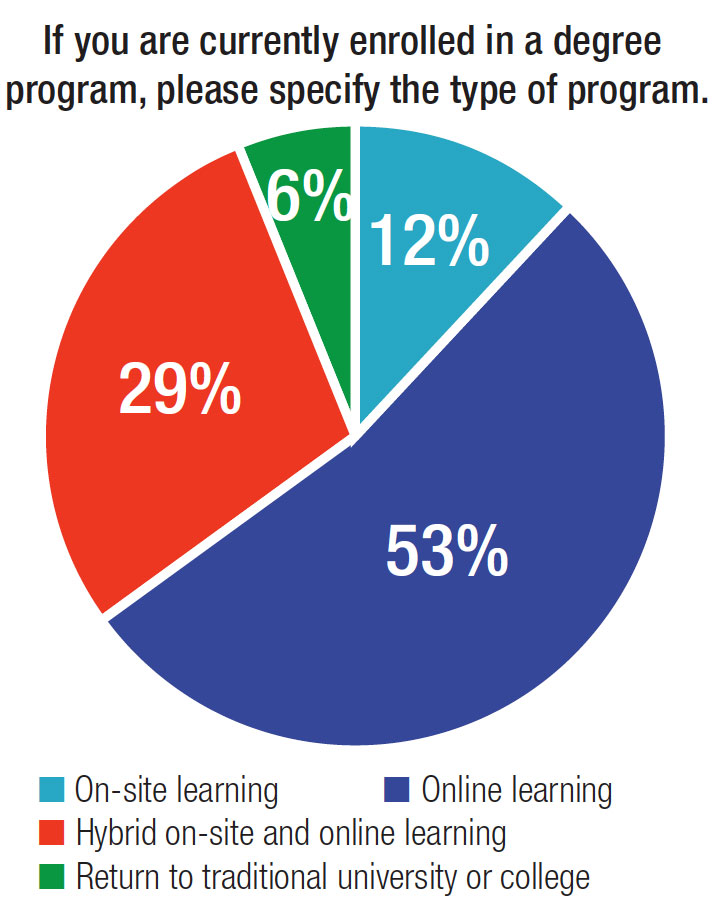 Preference for online-based programs surfaced once more; with 56% of survey takers, who were not currently enrolled in a program, selecting online learning as the type of program they would be likely to pursue. Hybrid on-site and online learning came in at 35%, with on-site learning (5%) and "return to traditional university or college" (4%) rounding out the remaining responses.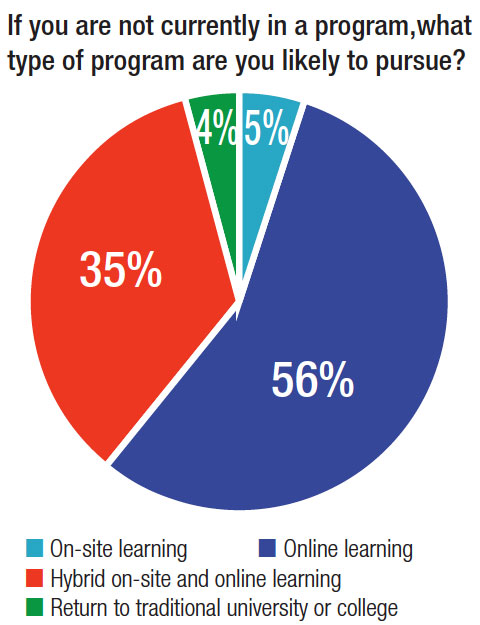 For more information, contact PTPEditor@nullallied360.com.
References
1. Bureau of Labor Statistics, US Department of Labor. Occupational Outlook Handbook, 2014-15 Edition, Physical Therapists. Available at: http://www.bls.gov/ooh/healthcare/physical-therapists.htm. Accessed February 7, 2015.
2. CAPTE 2012-2013 Fact Sheet, Physical Therapist Education Programs. Available at: http://www.capteonline.org/uploadedFiles/CAPTEorg/About_CAPTE/Resources/Aggregate_Program_Data/AggregateProgramData_PTPrograms.pdf. Accessed February 9, 2015.
3. ABPTS American Board of Physical Therapy Specialties. About Specialist Certification. Available at: http://www.abpts.org/Certification/About/. Accessed February 9, 2015.