Highlighted here are a few programs that offer a wide variety of opportunities for PTs who want to go the extra mile and improve their skills and their practice.

Clinical Approach to the Evaluation and Treatment of the Shoulder
This hands-on, clinically applied course aimed at making treatment of the shoulder complex logical and effective will be presented by Joanne Sklaar over three dates in October in Palm Harbor, Fla; Wilkes-Barre, Pa; and Kansas City, Mo. The course is an integrated neural, muscular articular approach and consists of the following: biomechanics, observation skills to assess substitution patterns, palpation skills, muscle testing the rotator cuff, Maitland passive mobilization techniques for pain and stiffness, myofascial-release techniques, clinical reasoning skills, taping, and evidence-based rehabilitation strategies.
For more information, contact Education Resources Inc, 266 Main St, Suite 12, Medfield, MA 02052; (508) 359-6533; www.educationresourcesinc.com.
---

Aquatic Therapy Professional-Development Courses
The Aquatic Therapy and Rehab Institute (ATRI) is proud to present several opportunities for continuing education, including the Aquatic Therapy Specialty Institutes, September 7–10 in Washington, DC, and November 16–19 in Chicago, as well as aquatic therapy professional-development days, from September to the end of October, in Michigan, Texas, Ohio, Pennsylvania, Oklahoma, and Arizona.
Topics include: introduction to aquatic therapy and rehab, ATRI rheumatology certification, sacroiliac dysfunction protocol, Ai Chi basic and Ai Chi balance and trunk stabilization, aquatic massage techniques, arthritis and rheumatology, back rehab, and much more.
For more information, contact the Aquatic Therapy and Rehab Institute, 13297 Temple Blvd, West Palm Beach, FL 33412; (866) 462-2874; www.atri.org.
---

Health Sciences Continuing Education
In today's competitive job market, being able to distinguish one's area(s) of clinical competency may offer an advantage in securing employment. Certification identifies for employers the skills that help professionals in the workplace. The University of St Augustine has offered a Certification in Manual Therapy since 1981, and it currently has four areas in which skilled clinical faculty are able to impart their skills to attendees.
For more information contact the University of St Augustine Health Sciences, 1 University Blvd, St Augustine, FL 32086; (800) 241-1027; www.usa.edu.
---

Continuing Education Programs and Therapeutic Services
The Upledger Institute is recognized worldwide for groundbreaking continuing-education programs and therapeutic services. Founded in 1985 by John E. Upledger, DO, OMM, the institute has trained more than 80,000 practitioners worldwide in CranioSacral Therapy and other gentle health care modalities. Participants take part in programs created and approved by the original modality developers and are able to choose a convenient location for hundreds of classes worldwide. Additionally, they earn widely accepted continuing-education units. CranioSacral Therapy has been proven effective in aiding individuals with a wide range of medical challenges, including migraines, neck and back pain, fibromyalgia, central-nervous-system disorders, autism, and post-traumatic stress disorder.
For more information, contact the Upledger Institute Inc, 11211 Prosperity Farms Rd, D-325, Palm Beach Gardens, FL 33410-3487; (800) 233-5880; www.upledger.com.
---

Instrument-Assisted Soft-Tissue Mobilization Technique Course
Graston Technique® (GT) offers PTs and athletic trainers (ATCs) three opportunities for continuing education: basic training (M1) teaches the basics of the technique and is open to all PTs and ATCs; advanced training (M2) teaches the Technique from a diagnostic and functional-assessment perspective and is offered to those who have completed basic training; and treatment/rehab methods using provocation and motion (M3) is for those who have completed both M1 and M2, and seek advanced knowledge about treating athletic and repetitive stress injuries. All three courses provide 12 hours of continuing education credits to those who complete the hands-on trainings.
For more information, contact the Graston Technique, 3833 N Meridian St, Suite 307, Indianapolis, IN 46208; (888) 926-2727; www.grastontechnique.com.
---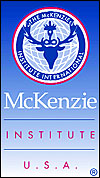 Mechanical Diagnosis and Therapy Course
Starting with a 15-day Program of Certification, The McKenzie Institute USA provides the therapeutic community with a preparation in the principles and application of the McKenzie Method® of Mechanical Diagnosis and Therapy® (MDT). To perform a thorough assessment, correctly reach a diagnosis, and provide successful treatment for any patient, the clinician must be maximally trained. The sequential four-part-course series gradually guides the clinician from the theoretical foundations to the practical applications of MDT. Once an understanding of the principles is achieved, the practitioner learns to identify the mechanical categories that respond to the use of self-treatment and preventive methods versus those that require additional manual therapy. The Credentialing Exam then provides validation of a basic level of knowledge and skill recognized as competent in MDT.
For more information, contact The McKenzie Institute, 126 N Salina St, Syracuse NY 13202; (315) 471-7612; www.mckenziemdt.org.
1 University Blvd, St Augustine, FL
432 N. Franklin Street, Syracuse, NY